Kasumi vs. Kasumi!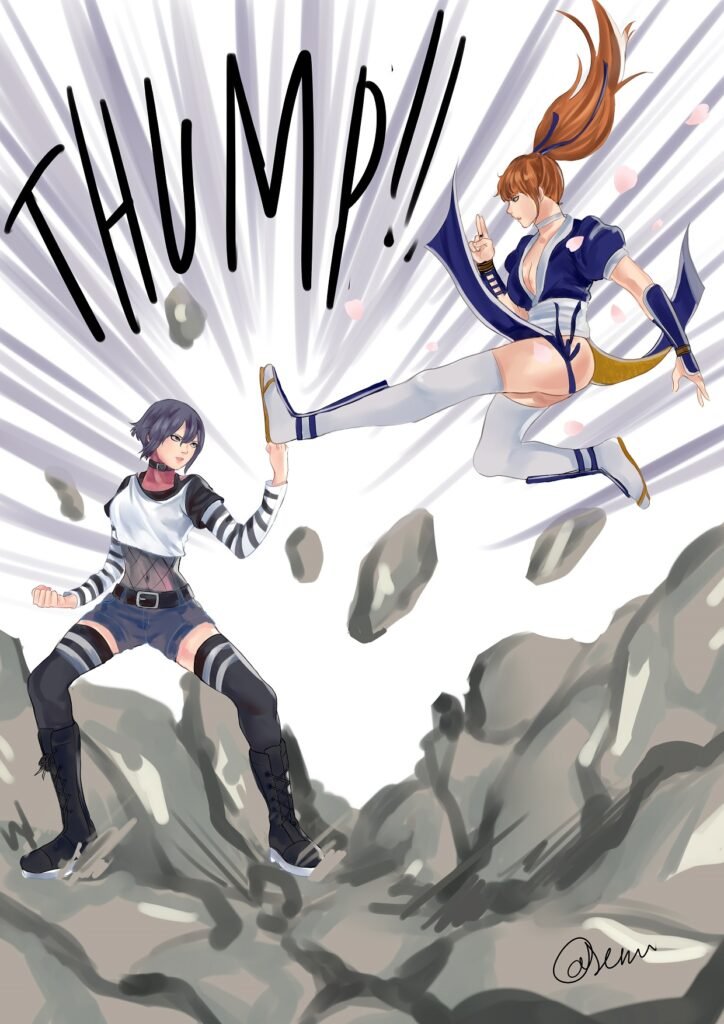 Today, (8 Feb) it's the Knee High Socks day in Japan.
Which means, it has been one year since Kasumi was revealed!
So, I thought of having something different to commemorate this 1 year anniversary. And while I'm at it, I'll tell a little story on how I decided to choose her name.
Thus, I present to you this art:
"Kasumi vs. Kasumi", by Alexa Huke ~
Around several months before I approached Haru to design Kasumi, I had this thought where I wanted to create an OC that represents my inner motivations. The first name that clicked in my mind was Kasumi, the kunoichi main character of the Dead or Alive series.
I knew about DOA's Kasumi back in 2005 while browsing through Deviantart. Her outfit is the first thing that catches my eye. It is so iconic that even after several years, I can clearly describe it without looking at her picture. It's too bad that they changed the outfit in DOA6, since I loved this iconic blue kunoichi outfit better.
Both Shioguchi (Shio) Kasumi and DOA's Kasumi has something in common. They may look beautiful and charming, but both are very skilled in fighting. Perhaps this is also the first time I decided to show Shio Kasumi's badass side where she shows her fighting skills against her name origin.
Not much of Shio Kasumi's story has progressed yet, but I'll try my best in this 2nd year to expand his story. I felt like I didn't do much justice to Kasumi and her friends last year, so I'm gonna focus on writing more of her story this time.
Thank you to everyone who has done arts for Kasumi during the first year, especially Haru, who brought Kasumi to life with her amazing art. Hope to work with a lot of artists this year to continue the development of Kasumi's story! ❤️❤️❤️