Lore Part 2: The Cheerful Maid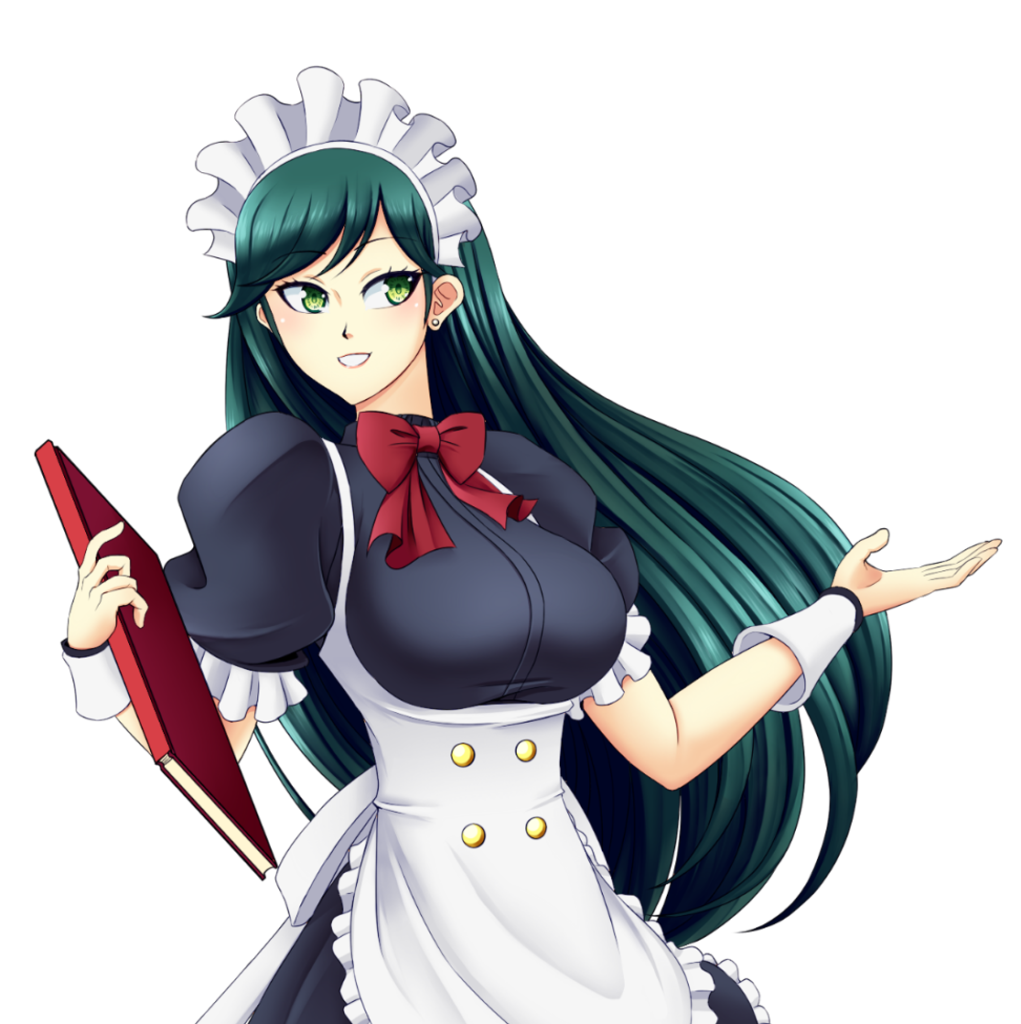 Artist: ShamshirHassan1985
Facebook
Kasumi often hangs out in Akihabara, window shopping on apparels and anime merchandise. She befriends lots of ACG enthusiasts roaming around in the area.
She doesn't make so many friends, until she entered high school. Here, she befriended three of her fellow classmates, whom she considers as buddies until today. Four of them have been together through thick and thin, and their friendship continues to grow stronger as they go by. Despite all 4 are enjoying their lives in their own way, all 4 of them stayed in touch and often meets up in Akihabara, or any of their houses. All four of them are diverse and bizarre in their own way.
Akiha Mieko is the first friend whom Kasumi becomes close buddies with.
She originally hails from Sapporo, Hokkaido in northern Japan. Her family moved to Kawasaki when she was in middle school, after her grandparents' death due to old age. Just like Kasumi, Mieko decided to live alone in an apartment, close to her workplace. She comes home to visit her parents every end of month.
Mieko works in a maid café in Akihabara. She is also a cosplayer, but just as her hobby. She has a very bright and cheerful personality, and her good vibes are infectious. She is affectionately called "Miekyun" at her maid cafe and has a catchphrase "Mie Mie Kyun". The nickname was so cute that even her buddies started to call her "Miekyun".
Apart from being a maid and a cosplayer, she is well known as an ASMR content creator (ASMRtuber). She regularly uploads ASMR videos to her channel, sometimes featuring her friends (their faces are blurred or wearing masks for privacy purposes, but Mieko herself doesn't conceal her face). She is the tallest and bustiest out of the 4, having an E-cup. Her friends often express their jealousy for her huge breasts. This… might have been the asset that boosts up her popularity. Mieko denies it, as she is doing the ASMR videos purely for fun.
Mieko is a fan of music, and she follows Billboard and Oricon frequently to get in touch with new music. She is an audiophile and is very careful when choosing her headphones and speakers. Being an audiophile, she experiments a lot on her ASMR videos. Her videos are so soothing that Kasumi admits to watching her videos when she has trouble to fall asleep.
She clicks well with Kasumi because she is also a Zettai Ryouiki (ZR) enthusiast. Just like Kasumi, she loves to wear thigh high socks. Compared to Kasumi, who only prefers solid and monochromatic coloured socks, Mieko prefers the colourful patterned type. Kasumi admires Mieko's ZR look because her thighs squish more when she wears thigh high socks. They successfully convinced Buddy #2 (To be revealed on 18th March!) to practice ZR. These two have tried to convert Buddy #3 (To be revealed on 28 March!) to practice ZR, but she has yet to show her interest in that matter.
At times, these two will be seen hunting for thigh high socks together everywhere around Akihabara. They used to go to the flagship Zettai Ryouiki Store in Sotokanda, near Akihabara. However, they were devastated when the flagship store was closed and went online (Which… they almost owned every single one they put on sale).
Trivia: The Zettai Ryouiki flagship store mentioned here was opened in 2014, however was closed sometime in 2019. Despite that, they still do their business via their online store, which is still currently active until today.
Article about the flagship store: [Beacon Akiba (Archived)] [Kotaku]
The online store: [Official website] [Twitter]
– END OF CHAPTER –