Lore Part 4: The Dominant Gyaru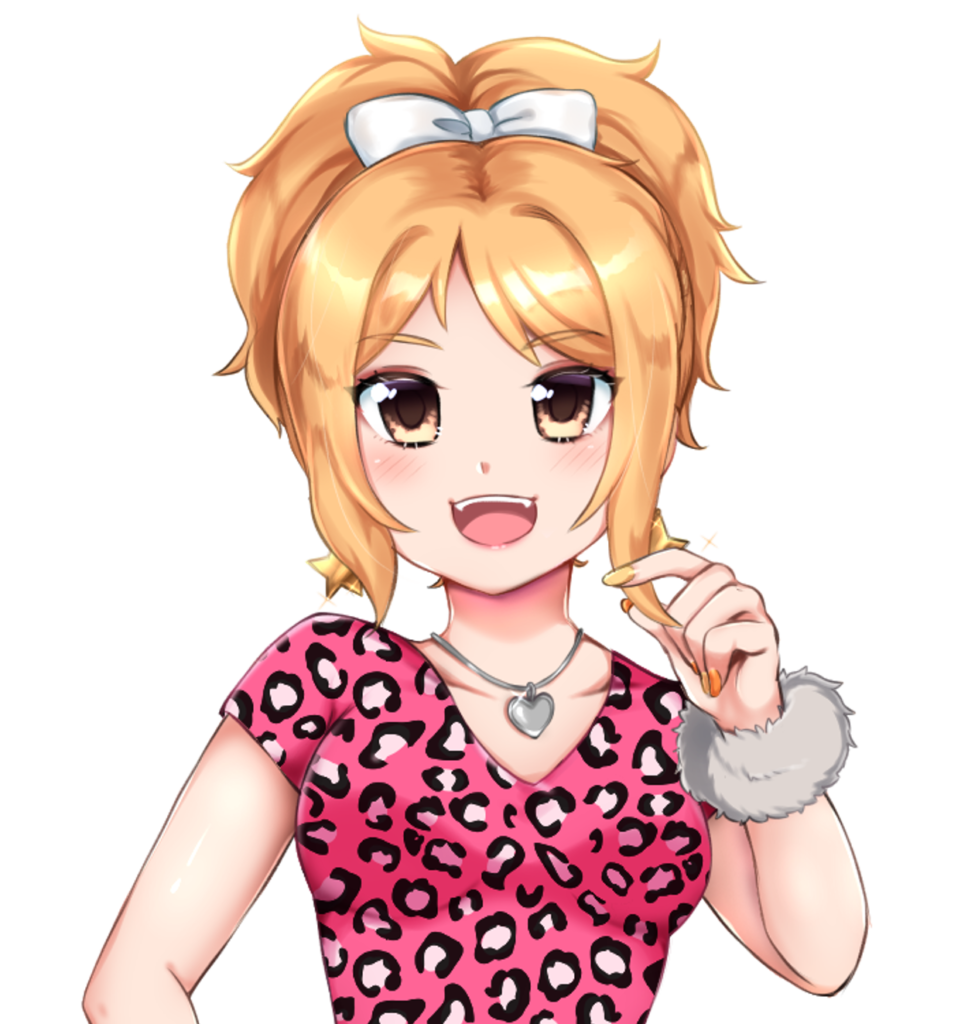 Artist: Noyu
Facebook | Twitter | Instagram | DeviantArt
Kuon Natsuki is a gyaru who is very up to date with the latest trends. She often hangs out in Akihabara during the day. Her friends affectionately call her "Nattsun". She is easily recognizable from her signature pink "leopard patterned top". She has a little mole under her left eye. She wears star-shaped earrings and a heart-shaped necklace. Out of the four, she is the only one who kept her nails long, and have her nails painted. Well, that's what most gyaru will do, right?
Despite her rebellious gyaru look, she is a girl who is raised and well-versed in traditional Japanese culture. She comes from a traditional Japanese family and lives with her family in a traditional Japanese style house. The Kuon household consists of her grandparents, her parents, herself, and her brother. Her brother has already married, and the couple run a traditional inn together.
The Kuon family is famous for their "kinbaku" / "shibari" (traditional Japanese rope bondage) skills. The skill has been inherited from her great grandparents, who were also kinbaku performers in the late 19th century. Everyone in the family, including her brother, are certified "kinbakushi" (rope masters).
The Kuon family's house also serves as the family's kinbaku studio. They occasionally receive customers from all walks of ages, from teenagers to the elderly. Natsuki and her family practice kinbaku not for sexual pleasure, but they appreciate the art behind it. Natsuki can build a close affection with anyone who becomes her partner during her kinbaku session. Her buddies, including Kasumi, often become Natsuki's practice partner. All of them have experienced being tied up for her practice. During kinbaku sessions, Natsuki will toss her gyaru appearance away, and wears a traditional black with orange polka dot kimono uniform that all her family members have. (Her hair is still tied up the same way).
Despite that mature aspect, she is an avid fan of "Doraemon". Staying true to her love for "traditional culture", she owns several old cassettes and all the manga volumes for the series. She began to become a Doraemon fan when she was small, after discovering that she shares the same birthday as the cat robot. A running gag in their conversation is that she always thought of a Doraemon gadget that can make the things they are doing easier. (e.g.: "If only I have the Take-Copter, I wouldn't have to go through the busy train hours every day.")
– END OF CHAPTER –