Introducing: SHIOGUCHI KASUMI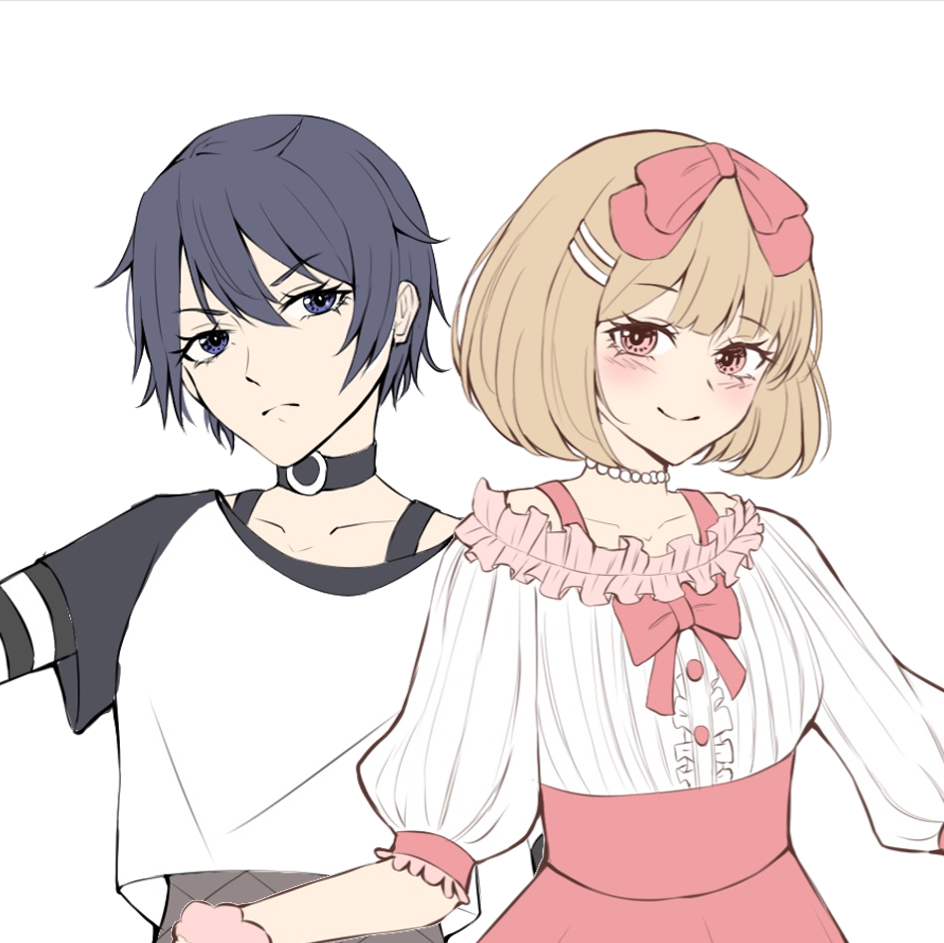 Hello, it's been a while since I posted an update!
I am currently back to my usual work routine, so my Inktober 2020 will be put on halt for a while again. However, during this past month, I have been collaborating with some artists to create my own original characters (OC) as my personas, as well as providing a mini-series in my doodles revolving around them.
I chose today, 8 February 2021, as the day to unveil them as it coincides the "Knee High Socks Day", or the alternate date of "Zettai Ryouiki Day". My OC's design incorporates Zettai Ryouiki, which pretty much represents my preference in drawing outfits.
Hereby, I'm going to introduce all of you to my OC, Shioguchi Kasumi! (塩口 花澄)
Kasumi is an OC, whom I already had an idea of it since January 2020. I have never been able to properly picture her, thus I seek help from my fellow friend, HaruuuKuma (formerly ShiroKuma). I was attracted to her artwork of the Hololive Vtuber, Himemori Luna. Kasumi has 2 split personalities, one is a rough-looking girl, and a girl who loves pastel and frilly lolita outfits, which I really need help with in making her come true. I am very satisfied and in awe of how Kasumi turned out, and thus, this salty and sweet girl's image finally come to life.
You can read more about Kasumi on this page! >>> [Kasumi's Bio]
BTW, Kasumi also has her own Twitter account! Sounds absurd, but yeah, she has one. 😛
Coming soon, Kasumi will also be accompanied with 3 of her buddies. Originally, I planned Kasumi to be alone, but in order to help expand her story, I decided to add 3 more characters to give more variety to the story. I have commissioned 3 more artists to design them, and they shall be revealed once they are completed!
Purpose behind the OC? I am going to doodle them from time to time. Not only that, I will be also seeking some potential artists and commission them to draw these characters. These artists will be featured, and given shout-out so that they will get more exposure on their awesome and amazing artwork! Just like ShiroKuma, the designer of Kasumi, who has gotten some more people interested in her art! And you could be the next one I will feature! 😀
Tomorrow, I'm going to post the first part of her lore. I will post on her story from time to time under the tag "Kasumi's Lore". I will also doodle Kasumi doing random things, and those posts will also be posted here under the tag "ShioPost". I really look forward to make more doodles of her and her buddies as my practice! <3
Until then, see you on my next update!
– kei