What A Long Hibernation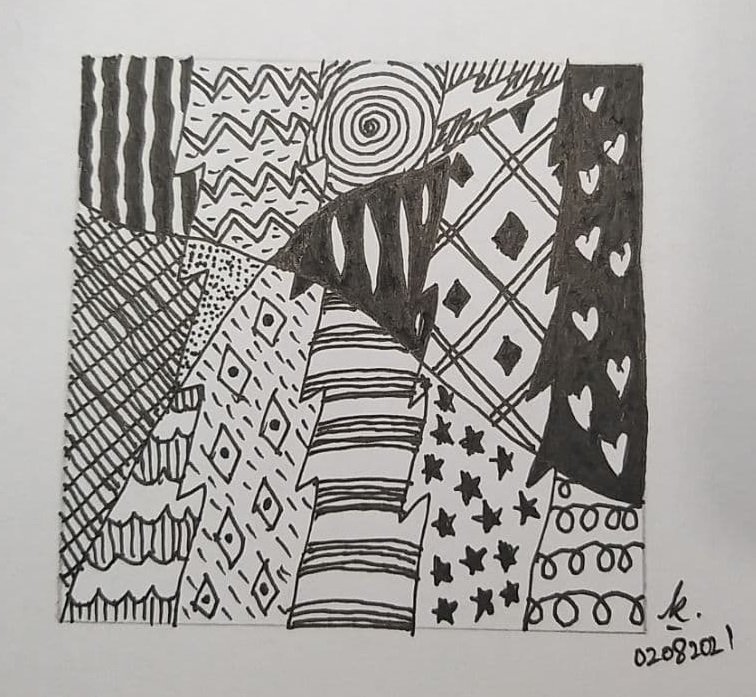 It has been over 100 days since I last went active here. I wonder what went wrong in these past 100 days, I seem to not have any motivation to even update anything. I thought to take a break for one week after Raya week, but then a huge wave of IRL responsibilities hit me that slowly drains my motivation to even continue making my updates.
That is, until 2nd August 2021, when I finally did something that I have planned for a long time.
I decided to try out Zentangle, an art habit to de-stress and also untangle my mind. It felt so relaxing to fill in this empty square space with patterns and doodle, unrestricted from any rules other than to unleash all creativity. Thus, I waste no time to get myself a square Zentangle sketchbook, and get started. I suddenly become hooked on it.
Thus, I decided to make it a daily habit to not only draw them, but to share them as soon as I completed it. So, starting this 1 September, I'm going to update my Zentangles daily on this website, as well as on my all social media accounts. I felt like this is the way I can at least update something even though I may be stuck doing work. I have dedicated myself to spend at least 15-20 minutes daily to draw these Zentangles, and I can't do or think about anything else when I'm immersed into drawing these.
Hopefully I can actually pull it off this time, I have always failed every single challenge that I started back in the past. Besides, Zentangle is a way for me to forget about work for a while, so I'm confident I can actually make a one year circle of 365 Zentangles this time around.
I would probably not join Inktober for this year considering the huge failure of last year's. I have the feeling that I must complete the last one first before I can actually continue on. But with the tight work schedule I'm having now, I guess it won't be any harm to actually take a backseat for this year.
Anyways, I'm back everyone. Do look forward on my daily Zentangle doodles starting 1 September!
P.s.: About Kasumi and her friends, I do have several artworks that I commissioned during my absence period, and I shall share them slowly when I have the time. ;D
– Kei